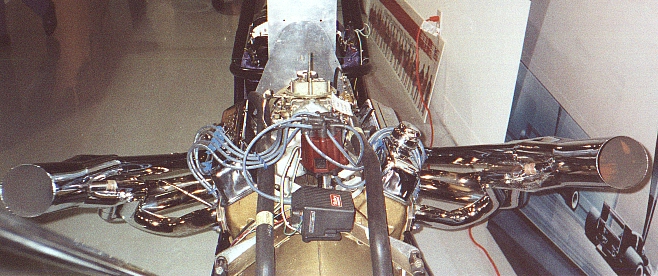 350 bored 40 over

4 bolt main

12.5 Keith Black pistons

Summit Pro line steel 5.7 rods

Lunati 303/313 dur 570/592 solid lift cam

Aluminum roller rockers

Double roller timing

64cc ported/polished steel double hump heads with 2.02 valves

Edelbrock Victor Jr aluminum intake

Holly 750 double pumper

TCI Rattler balancer

Hooker Super Comp chrome headers

Holly electric fuel pump

pressure regulator- Moroso 7qt oil pan- Aluminum mid-plate- Chrome valve and timing covers.

Cooling- Moroso electric water pump- Aluminum radiator/electric fan.

Transmission- Shorty powerglide- TCI Pro Tree transbrake- 
TCI 5900 8" stall converter- Mark Williams shaft and couplings-
Trans and flywheel have safety sheilds-
trans brake button is on the steering wheel.

Third member-

M/W 35 spline axles- M/W aluminum case- 
M/W lightweight spool- Richmond 567 Pro gears.

Housing narrowed by Mark Williams.
5/8 wheel studs.
Wilwood brakes with drilled rotors.

Electronics- MSD 7AL ignition- 
Dedenbear electronic shift- Dedenbear Delay-
Autometer guages, oil and water with 5" tach- Mallory ProMaster coil.

Misc- Diest chute- Rear wing with chromoly struts- Aluminum battery box,
fuel tank and radiator recovery- 5 way belts-
Quick release steering- Bandit shifter.

BACK TO MAIN PAGE